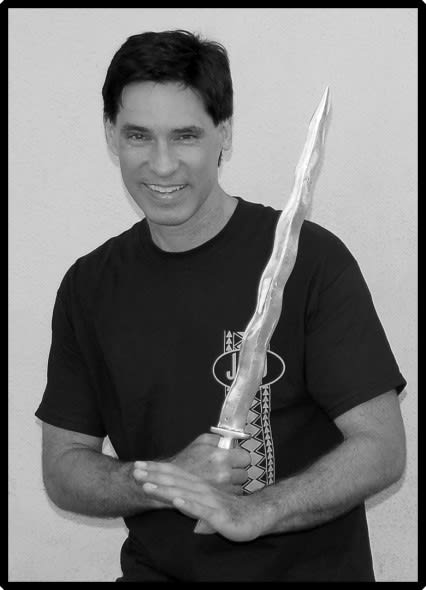 Burton Richardson
Burton Richardson is the head of JKD Unlimited and a world renowned leader in self-defense. His mission is to help people develop self-discipline and self-confidence through the practice of realistic self-defense training via his trademarked For the Street distance learning programs.
Burton Richardson has studied extensively with many of the finest instructors in the world. Years of intense training have lead to full instructor's credentials in Bruce Lee's Jeet Kune Do Concepts, Jun Fan Gung Fu, and Filipino Kali under Guro Dan Inosanto, protege of Bruce Lee. Burton is also a full instructor under Jeet Kune Do great Sifu Larry Hartsell. Burton's Thai Boxing instructorship was awareded by Master Chai Sirisute, while the title of Guru was achieved in Indonesian Pentjak Silat under the guidance of Pendekar Paul de Thouars.
Burton earned his instructorship in Kali Ilustrismo after rigorous training in Manila under Grandmaster Antonio Ilustrismo, Master Tony Diego, and Master Christopher Ricketts. Burton was awarded his black belt in the art of Brazilian Jiujitsu by world champion Egan Inoue. His latest certification is as a Krav Maga instructor under Israeli Special Forces instructor Nir Maman.
Burton has extensively trained with many other top BJJ exponents, including the Machado Brothers, Carlson Gracie, Baret Yoshida, and Marcelo Garcia. Burton has even journeyed to South Africa several times to train with Zulu warriors in their method of stickfighting. It has been a long road, but one certainly worth traveling.
This broad spectrum of experience gives Burton a unique perspective on the arts. Burton wrote for Inside Kung Fu magazine for eleven years. He also wrote a monthly column for Budo Magazine, an international publication translated into Croatian, French, German, Italian, Portuguese, and Spanish. His second book was also published by Budo while his third book, Choke 'em Out, with Paladin Press, was released in July 2007. His latest book, Silat for the Street, was released in 2016 by Black Belt Publications. Burton also writes articles for Black Belt Magazine.
He has produced a plethora of highly acclaimed instructional DVDs and has appeared in numerous Hollywood films. He has written, produced, directed, and starred in his own feature film, One Percent Full, also known as MMA Streetfighter, released in July 2007.
Burton enjoys sharing his good fortune through seminars worldwide. He is known for teaching a dynamic seminar in a relaxed atmosphere, with ample time taken to highlight the fine points of the arts. Burton's wish is to be able to share as much as possible so that martial artists all over the world can improve themselves and then share their knowledge with others. He has designed many programs so that his affiliates can share his teachings.
MDJKD Head Instructor JB Jaeger is a JKD Unlimited Training Group Leader under Burton Richardson, and is proud to offer training in JKD Unlimited's Mixed Martial Arts For the Street program.
"Our goal is to be functional in all the ranges of combat, with or without weapons, against one or many skilled opponents, and in a variety of environments" - Burton Richardson